Former UFC heavyweight Brendan Schaub and UFC President Dana White have been going at it for the past week. Now Schaub has come forward with a new lengthy statement on the matter.
It all started when Brendan Schaub offered his own opinion from his podcast on kickboxers entering the world of MMA.
"I think everybody is all high and mighty on these guys who come from kickboxing, boxing backgrounds. When they come over to the UFC, they expect them to be elite strikers. The distance, the combos, the head movement, the number of variables, it's a completely different game, so to me that never translates."
Israel Adesanya then followed up with a response to the statement, as seen below.
Dana White then took to social media to roast Brendan Schaub over the statement.
"Such a f—kin tool!!!! What the f—k does this idiot know about the sport or the business??? @stylebender for u to be listening to one word from this MORON is a waste of ur time. Guy went 6-5 in the UFC!!! The only thing he could teach u is how to get KO'd. Tune idiots like this OUT."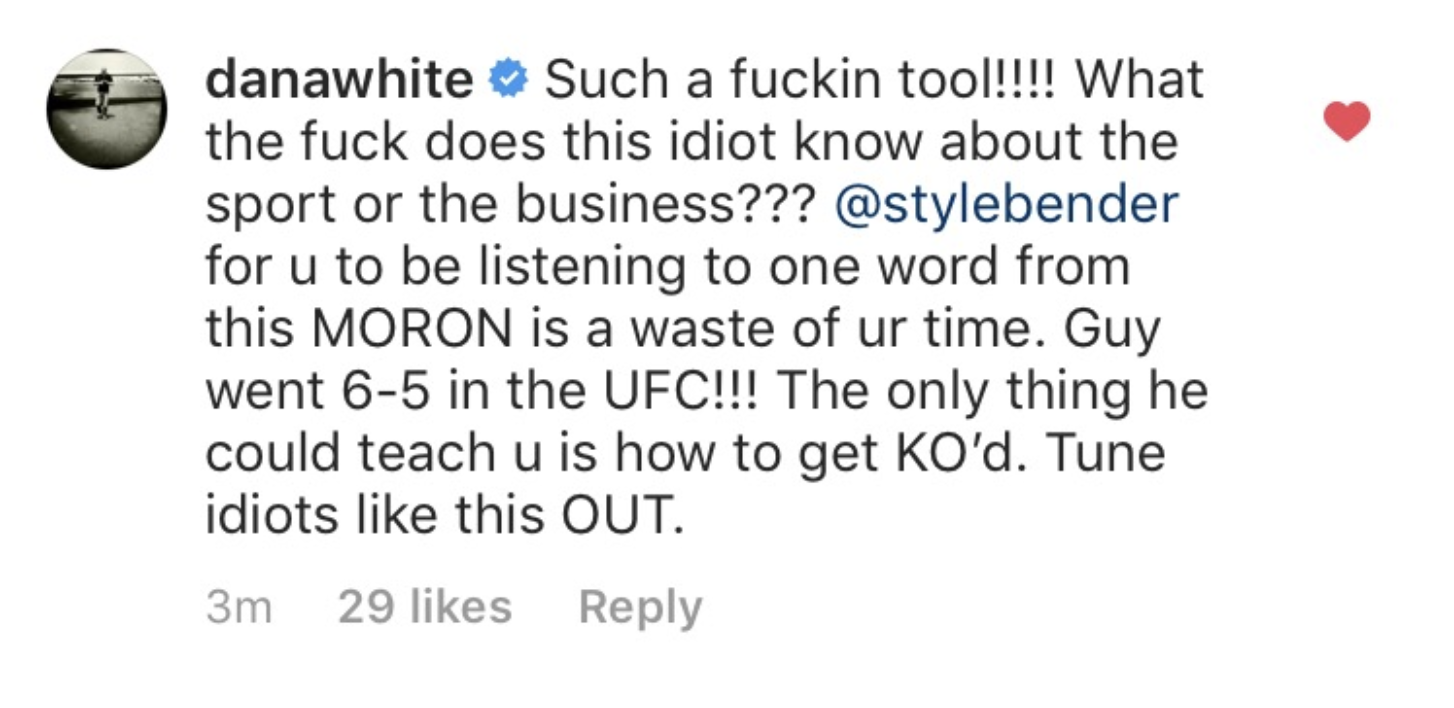 Brendan Schaub then retaliated with a brutal and lengthy statement on the UFC boss.
@danawhite I tried to be cool. #Icandoyourjobyoucantdomine pic.twitter.com/F1TbxVMhxB

— Brendan Schaub (@BrendanSchaub) July 12, 2018
Now speaking on his podcast Below The Belt, Brendan Schaub has come forward with new statements on Dana White. Check it out below:
"I can't understand why he does this to fighters. He's notoriously done this for years and years and years where he just talks shit about the guys. And they're not doing well. Those guys just lost the biggest fight of their lives, they're gonna have to pay. And they're not feeling good about themselves and then the boss, who you're looking for any amount of approval and it would go so far, you're the captain of the ship, when you're shitting on all the employees on the ship, it doesn't make people feel good. When you try to lead by fear, it doesn't work.
"People go, 'Dana's worth whatever, 400 million dollars,' that's fine. To me, that doesn't mean you're a successful leader. That doesn't mean shit to me. There's a lot of working wheels that go into making that deal happen. It's not just him getting it done. What he's done with the sport is great. He took that torch, ran with it, got it done, sold the company, it's a major sport now. That's great. We should tip our hats to him for that.
"But if you think that with the platform I have I'm not going to criticize you for shitting on these fighters who don't have much, financially, they don't have a platform, they have to literally punch other men in the face to make a living. And for you to bring men and women down like that is insane. You're never going to get a free ride here. Ever. Ever, ever, ever, for as long as I have this microphone in my face, you will always get criticized for that. Always. It's not cool."
"Why be mean about it? Why be a bully in this day and age? Why continue to shit on people? You've won, man. You've won. You're the CEO of a billion dollar company and you're trying to talk shit to somebody who retired four years ago on social media. What are you doing? What are we doing?
"Imagine somebody else, the head of a corporation, they'd lose their job. Talk shit to people like that. What the f*ck are you doing? What are you doing? It makes no sense. It makes zero sense."
"Why do you think all those people are reaching out to me? Why do you think this is getting so many likes? Why do you think this is the topic of all this stuff? Because you're a dick. And no one can say anything because they're scared to lose their job. I'm not. I need nothing from you. I need no approval, I don't need promotion, I don't work for you, I do none of that. I tell you the truth. You're a dick.
"You think that makes you look smart? Smart people don't do that. People who are comfortable with themselves and don't have ego issues don't do that. People who have made it don't do that. People who are comfortable in their skin don't do that. That's your problem, brother. It's just your problem, that's it."
"After all that, I still have no hate in my heart. I have zero heart towards Dana White. If he called me up right now and went, 'Hey man, let's stop this shit. Let's do this.' Cool, man. I have zero animosity.
"I don't have time for hate. I don't have time to continue to f*cking come after you on social media. You asked for this. That tweet, I wrote that on a plane. It took me three minutes to knock that out. It took me three minutes. I didn't ask for this. I don't want this. I don't need this negativity. I'm too busy. We both made it, everything's all good."
For more MMA news click here.