Asian mixed martial arts news media outlet The Fight Nation recently completed another edition of the Asian MMA Awards. However, the news source has since come under fire for allegedly having manipulated the voting results.
The Asian MMA Awards is an award ceremony dedicated to a bevy of honors. From "Head Coach of the Year" to "Best Destination Gym," the award ceremony has become an integral part of the Asian MMA scene. However, fight fans were in for a surprise when they voted for the latest series of awards.
Despite having earned the most votes in their respective categories, many of the most popular participants ultimately lost. In total, ten of the total sixteen categories were won by participants that did not achieve the highest number of votes.
The Fight Nation defines their 2018 Asian MMA Award voting process as follows.
"For the first time ever, the Asia MMA Awards will incorporate voting across all categories including Gym of the Year, Fight of the Year, Rookie and the most anticipated Male & Female Fighters of the Year.
"The awards will take place at the Qube at PMQ in the heart of Hong Kong's Central district on Friday, 14 September. You can get your tickets here.
"From today until 20 July 2018, you can cast your vote to your favorites fights and fighters right here exclusively on The Fight Nation."
After reaching out to The Fight Nation for an explanation concerning the controversial awards, the media outlet stated "The fan vote only accounts for 30% of the final vote. The reminder (sic) was decided by a panel of judges."
ONE Fighting Championship, the largest eastern mixed martial arts promotion, received the most popular vote in all applicable categories. Yet, the promotion was only awarded a single category. Over an estimated 20,000 fight fans voted for the award ceremony, with each vote seemingly making little to no difference concerning the ceremony's outcome.
A full list of the award category winners contrasted by their actual total votes may be viewed below.
Best Walkout: Kevin Belingon, One Championship
Photographer of the Year: David Ash
Best Technical Equipment: Venum
Amateur Fighter of the Year: Theebaan Govindasamy, MIMMA
Best Destination Gym: Tiger Muay Thai & MMA
Ring Girl of The Year: Red Dela Cruz, UFC
Event of the Year: UFC Shanghai – Bisping vs Gastelum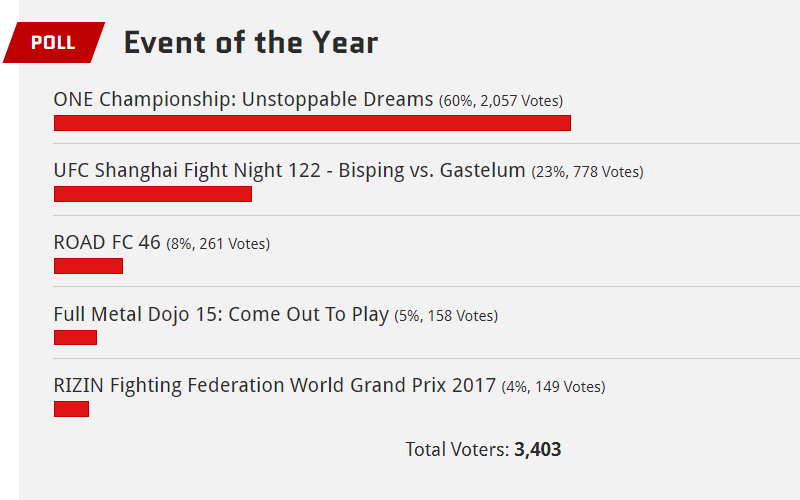 Most Functional Clothing Brand: Reebok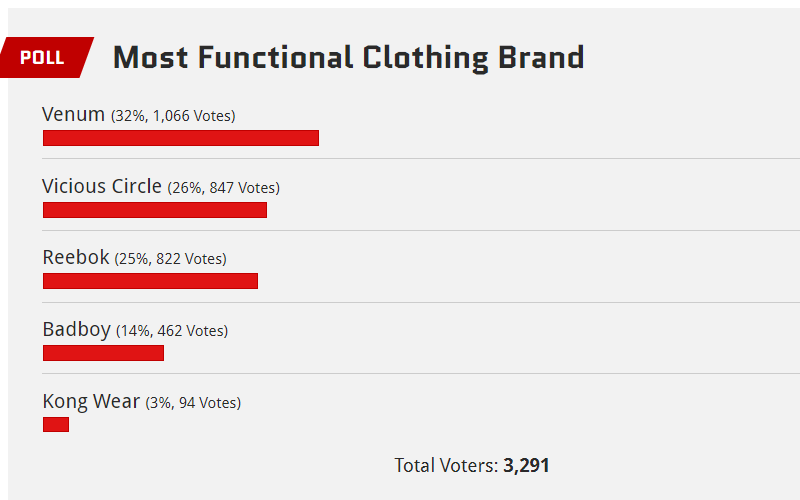 Rookie of the Year: Hwang In-su, Road FC
Gym of the Year: Team Lakay
Submission of the Year: Kang Kyung-Ho submits Guido Cannetti (triangle) – UFC Fight Night 127
Head Coach of The Year: George Hickman, Tiger Muay Thai & MMA
Knockout of the Year: Alain Ngalani KOs Hideki Sekine – One: Total Victory
Fight of the Year: Moon Jea-hoon vs Asakura Kai, Road FC
Male Fighter of the Year: Martin Nguyen, One Championship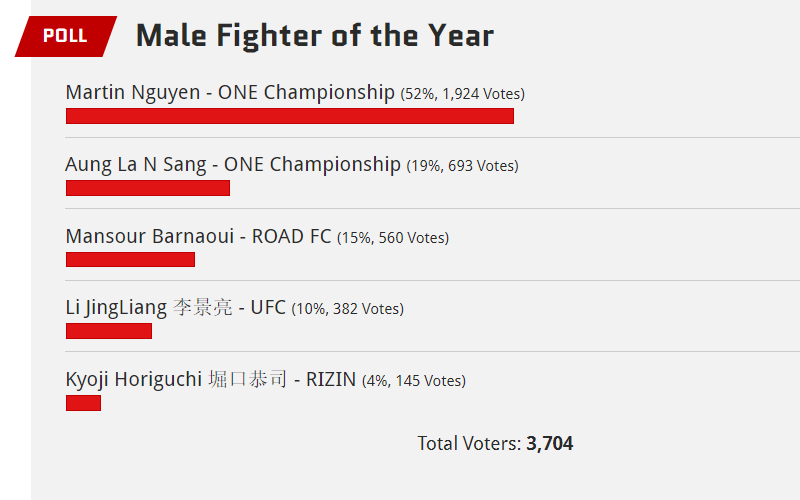 Female Fighter of the Year: Ham Seo-hee, Road FC
For more MMA news click here.