While this whole evening was really a non-issue until Conor McGregor teammate Artem Lobov made it one, the UFC lightweight champion was recently spotted being maybe just a little too cozy with a famous fashion model in London. And now we have more "date night" video footage from that controversial evening. (Video above)
Taking to Twitter, world-famous model Rita Ora posted some very flirtations photos of her and McGregor while attending the fashion awards in London, oh yea, and she also called it "Date night."
But, Conor is a taken man. He has a baby momma named Dee Devlin who has been with him since living broke in his mother's attic, and Artem decided the right thing to do was stand up for Dee, and let that model chick know where her place is.
After the controversy, the model still coined her night with the UFC champion as Date Night, and her and her friend get a good laugh about it.
Here's the exchange the original posts from Rita and Artem:
Date night @TheNotoriousMMA pic.twitter.com/G4gR5KJ11Y

— Rita Ora (@RitaOra) December 5, 2017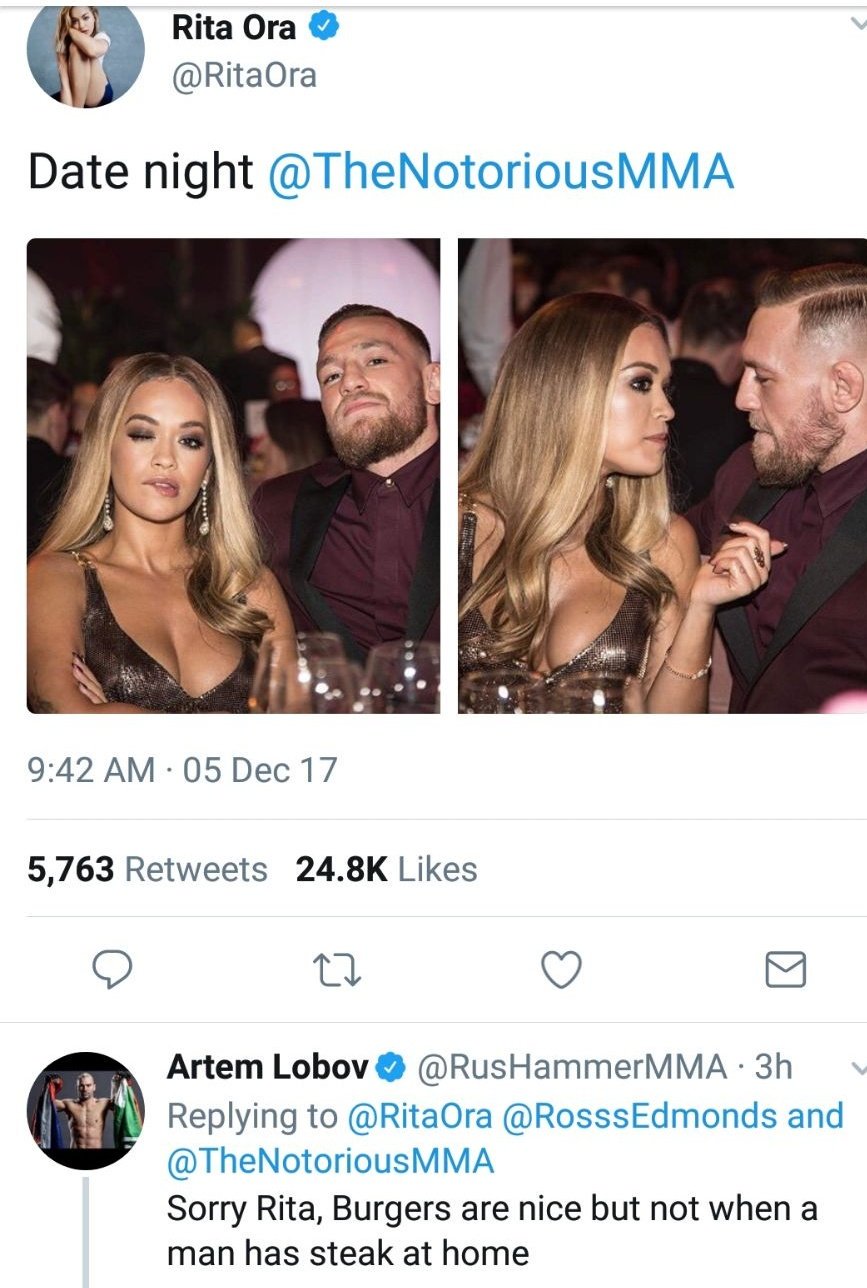 UFC megastar Conor McGregor shocked the world when he knocked out Jose Aldo in 13 seconds for the featherweight title. The fighter then made UFC history by earning a TKO victory over UFC lightweight champion Eddie Alvarez, making "Notorious" the first and only fighter to ever simultaneously hold multiple UFC titles.
McGregor would go on to make history when the UFC champion made his professional boxing debut earlier this year. On Aug. 26, the fighter faced off against undefeated pugilist legend Floyd Mayweather Jr.
Mayweather took out "Notorious" in the tenth round, but McGregor still walked away with the payday of his career. The UFC champion allegedly earned $100 million for his boxing debut. Mayweather vs. McGregor would go on to break the record for most pay-per-view purchases.
For more MMA News click here.