Former UFC Heavyweight Champion and current World Wrestling Entertainment Superstar Brock Lesnar was in attendance for his daughter's volleyball game along with his wife, Sable. Hopefully the game went well as nobody wants to see Lesnar's daughter take a loss when "The Beast Incarnate" is in attendance. In a rare family photo, someone in the stands grabbed a pic of Brock, and he looks pissed!
It could be an intimidation tactic, If you were a coach of the opposite team, or even a player and Brock came in with a mean mug, you might opt to take it easy on his daughter, even let her win. Right?
The champion amateur wrestler, turned professional wrestler, turned MMA fighting UFC champion powerhouse, turned professional wrestler was set to face Bill Goldberg at Wrestlemania 33 in April. Lesnar was last seen inside the octagon at "UFC 200" where he defeated Mark Hunt by way of unanimous decision. However, two failed drug tests (in competition and out of competition) turned that victory into a no contest.
Lesnar has since informed the UFC of his retirement from the sport. Whether or not that's just a way to get the USADA agents away from his house remains to be seen, however.
Check out Lesnar looking pretty angry when he shows up to his kid's game.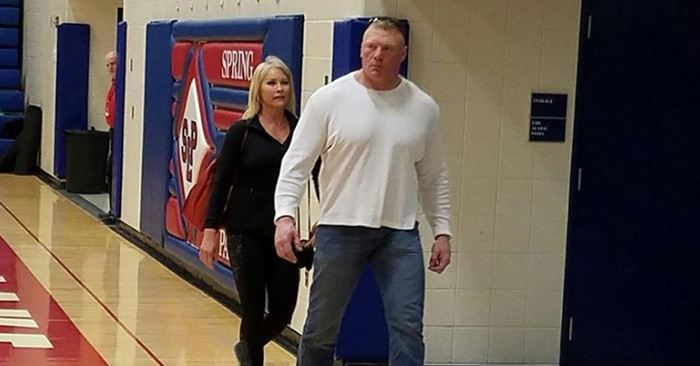 Think he was intimidating the opposition?
For more MMA News click here