It would appear that former UFC interim heavyweight champion Shane Carwin is calling an end to his illustrious mixed martial arts career.
In Carwin's short run in the Ultimate Fighting Championship (UFC) the heavyweight has gone on to face some seriously tough opponents. The fighter earned a first round knockout victory over former UFC heavyweight champion Frank Mir and over Gabriel Gonzaga during his career.
Carwin would go on to suffer tough losses to former champions Brock Lesnar and Junior dos Santos. Now Carwin is hanging up his gloves. Taking to Reddit, as seen in the picture below, Carwin revealed the news.
"We have tried to get fights it seem like there are no interesting fights and I am not getting younger. Let me just lay my gloves down right here on r/mma.
"Thank you to each and every one of you. It is odd to be healthy an unable to compete yet able to compete when so unhealthy. I guess we end with never knowing what could have been.
"Somber would be the best way to describe the emotion. Thank you all for the love, the insults and the great times. I will sink back into the mode of being a redditor and my quest to become a mod here. I am also on a hunt for a large Fedora. I am like an eight and a half in hats.
"Seriously thank you all from the bottom of my heart for being amazing and making this sport amazing. We feel the love and energy in the cage and it completes the journey. We love what we do because we get to do it for you."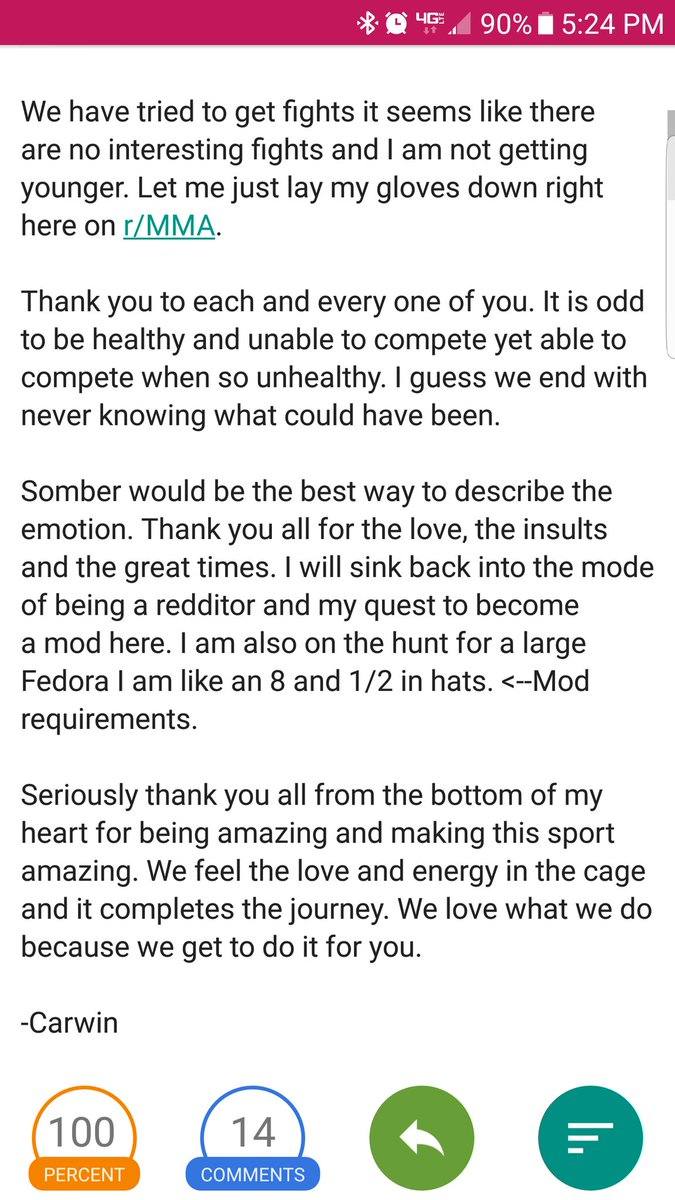 Shane Carwin ended his career with a record of 12-2, having taken on some of the sport's toughest heavyweights during his time in the mixed martial arts world.
For more MMA news click here.