UFC mega-star Nate Diaz won the UFC's Ultimate fighter reality series as a lightweight fighter. He then spent the majority of his career in the 155 pound division, outside of a few stints at welterweight. However, not having fought since his highly contested 2016 loss to Conor McGregor, Nate appears to have packed on some size. In a new pic, Nate stands next to the heavyweight GOAT Fedor Emelianenko, and he's shockingly bigger than him.
Nate Diaz's last entrances into the Octagon were against fellow mega-star Conor McGregor. The two put on an epic two-fight series for the ages in 2016, both holding victories over the other.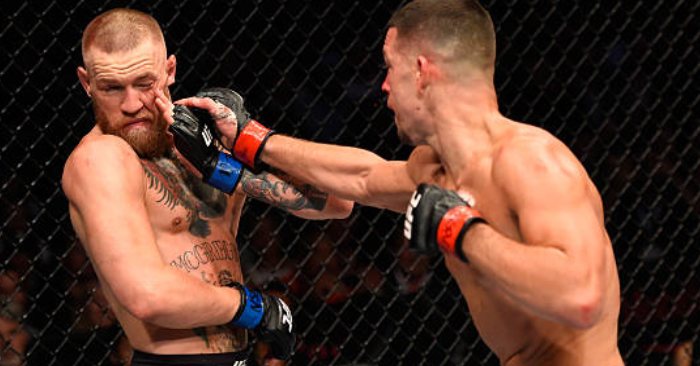 At UFC 196, Nate Diaz choked out Conor McGregor in the second round, giving him a decisive victory over the sport's biggest star. With the win, Nate became the only man to beat Conor McGregor inside the UFC.
At UFC 202, McGregor got the win back, but it was a razor close decision that many thought should have been awarded to Nate Diaz.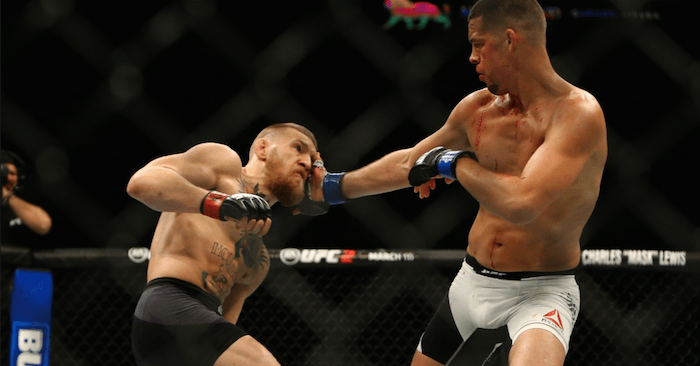 Most expect a third fight to eventually happen between Diaz and McGregor. But now that both fighters hold a lot more leverage in negotiations, they've yet to come to an agreement on a trilogy fight.
Both Nate and Conor have booked their returns to action, as of earlier this month. Nate will face off with Dustin Poirier in the UFC 230 co-main event.
At a recent Bellator event, Nate Diaz and his crew, were spotted with legendary heavyweight fighter Fedor Emelianenko, and it's shocking to see that Nate Diaz is just as big as him.
Check it out:
For more MMA News click here.