Michael Bisping (born 28 February 1979) is an English mixed martial arts fighter and actor. Bisping fights in the Ultimate Fighting Championship (UFC), and is a former UFC middleweight champion. He is the former Cage Rage Light Heavyweight Champion, and The Ultimate Fighter Season 3 Light Heavyweight Tournament winner. At UFC 78, Bisping became the first English fighter in a UFC main event. Additionally, at UFC 199, he became the first English fighter to win a UFC world championship when he defeated Luke Rockhold.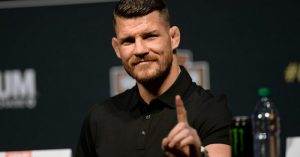 Former UFC middleweight champion, Michael Bisping.
"It's a dream come true.  It's the top organization in the world, and here it is, three years after I started, and I'm here. This is just a stepping stone into the UFC and hopefully I can go on and have a decent career here. I still can't believe it, to be honest, it's almost surreal." Bisping said after finally making it to the UFC.
More Michael Bisping News: