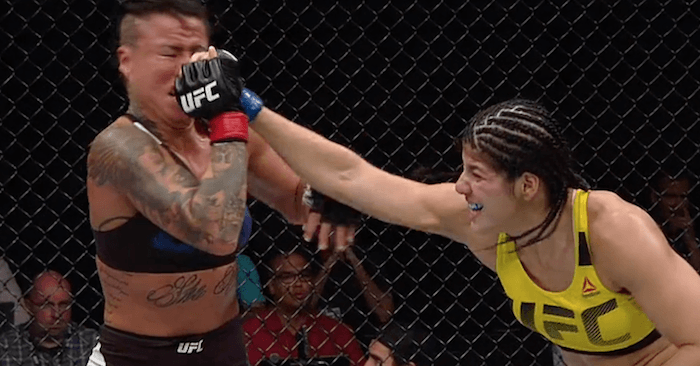 Ashlee Evans-Smith and Ketlen Vieira kicked things off in Kansas City, Missouri at the Sprint Center with their bantamweight bout that aired exclusively on UFC Fight Pass.
[FIGHT VIDEOS UNDER THE OFFICIAL RESULT BELOW]
Neither women shied away from throwing down inside the octagon as soon as the action started. Vieira was the aggressor and Evans-Smith worked hard to match her pace, but Vieira simply manhandled her toward the octagon fencing where she tried to take her down. Evans-Smith was able to escape harm's way before making it back to the center of the octagon, however.
Evans-Smith's circled around the octagon with her back toward the fence and for every shot she threw, Vieira would fire back with two or three more. The round ended with neither fighter threatening to end the fight, but with Vieira in full control.
Evans-Smith showed great determination when she was taken down by Vieira, only to fight her way back up moments later. The second round saw Vieira controlling the center of the octagon again, peppering Evans-Smith up with her right straight. Again, much like in the first, Vieira controlled the action but dictated where it went.
Evans-Smith tried to show some aggression in the final round but that momentum was cut off by Vieira who caught Evans-Smith off guard with the straight right again. Vieira landed more shots to the face while Evans-Smith landed more to the body and legs. In the end, they both landed around the same amount of strikes but the judges would have the final say in this one.
Ketlen Vieira def. Ashlee Evans-Smith by way of Unanimous Decision (29-28, 29-28, 30-27)
The wrestler gets taken down! @KetlenVieira10 gets the takedown and takes Evans-Smith's back! #UFCKansasCity pic.twitter.com/ah0qZL1gbI

— UFC (@ufc) April 15, 2017
These two are SWINGING here in round 2! #UFCKansasCity pic.twitter.com/G0GDeNcT7M

— UFC (@ufc) April 15, 2017