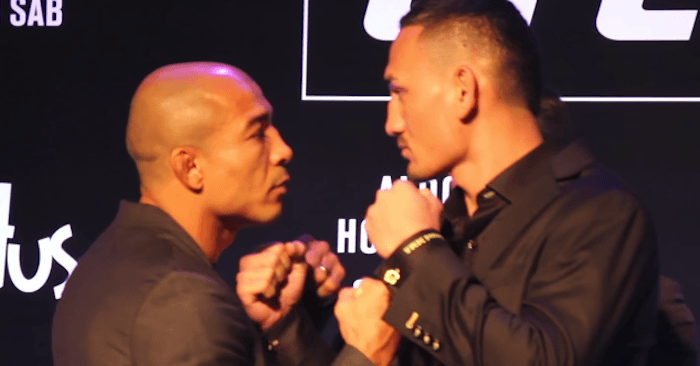 UFC Featherweight Champion Jose Aldo is no longer sitting back and letting his fights do his talking for him; Aldo explained to the media that he will be taking a more aggressive approach with his interviews to get where he believes he deserves to be, in terms of star power. Gone are the days of rankings, as WME-IMG bosses seem to care about who can move numbers.
Max Holloway is looking to cut off the momentum of Aldo at "UFC 212" when they meet inside the octagon to fight for the right to become the undisputed featherweight champion of the world. The two went face to face at a media day and things got a little heated:
UFC 212 is set to take place at the Jeunesse Arena in Rio de Janeiro, Brazil on June 3, 2017. Anderson Silva is still featured as a co-main event fighter, but he still has yet to secure an opponent for the fight as Kelvin Gastelum was forced out for failing a drug test.
Who do you think will walk out of the octagon as the champion when Aldo and Holloway collide at "UFC 212"? Who would you like to replace Gastelum in a fight with Anderson Silva? Let us know your predictions by leaving a comment in the section below!