Conor McGregor Net Worth
Conor McGregor Net Worth:  UFC lightweight champion Conor McGregor is without question one of the highest paid athletes in the world.  The brash talking Irish world champion not only sits atop the UFC as the highest earner, but he also demands some of the biggest money outside of the cage. These things have propelled him to one of the Top 25 highest earning athletes today.
In 2016, Conor posted the highest PPV numbers in company history at UFC 196 in his submission loss to Nate Diaz.  The event was a massive success for both fighters in terms of pay per view points and outside sponsorship money. However, McGregor wasn't done yet as he broke even more records when he won the rematch at UFC 202, and then became the first ever two weight world champion at UFC 205.
Estimated Net Worth: $108 million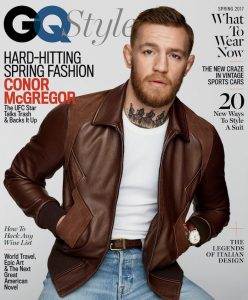 What did Conor McGregor Make Against Floyd Mayweather?
The UFC lightweight champion was negotiating with Dana White, the UFC, and Floyd Mayeather's team to reach an agreement. It was reported that his fight purse and pay per view (PPV) earnings would have McGregor making $100 million dollars.
Conor McGregor Net Worth 2017
So what is Conor McGregor's estimated net worth? According to Forbes, McGregor made $27 million dollars for his previous UFC fight purses. However, these millions are a drop in the bucket for the UFC champ as he cashed in a reported $100 million dollars for his boxing mega fight against Floyd Mayweather Jr.
Who are Conor McGregor's Sponsors?
That said, McGregor is just like the other UFC fighters on the roster and is part of the UFC outfitting policy under the Reebok brand. But he's not under the same sponsorship deal as the other fighters due to his name value and recognition. Needless to say, his deal with Reebok is for substantially more money.
Beats by Dre is one of McGregor's newest sponsors that he's brought on board this year, and lets not forget Conor McGregor's cars. He's routinely seen in the newest and finest automobiles. In fact, Rolls Royce has been working with McGregor for sometime and always makes sure hes in their latest and greatest luxury offering.
Conor McGregor next fight?
So what's the next fight for Conor McGregor?  He's been talking about fighting everyone from Manny Pacquiao to Nate Diaz, but it looks like a title unification fight against Tony Ferguson is next.
More MMA News click here