One of the top women's strawweight fighters in the promotion was exposed when she had a UFC wardrobe malfunction during one of her fights.
Women's strawweight contender Maryna Moroz fought Cristina Stanciu at a UFC Fight Night in April 2016.
During the fight, Stanciu grabbed Moroz's top while she was off balance. This resulted in Stanciu pulling down on her top and exposing her opponent's chest.
Stanciu immediately saw the mistake she made and stopped fighting in order to allow Moroz to fix her top.
Below, you can see photos of when this incident took place.
Moroz went on to win a unanimous decision over Stanciu in Zagreb, Croatia.
Currently, Moroz is ranked No. 15 in the official UFC women's strawweight rankings. She is coming off a decision loss to former UFC Women's Strawweight Champion Carla Esparza back in June. Moroz's UFC career includes notable wins over Joanne Calderwood and Danielle Taylor.
Take a look a the photos of her UFC wardrobe malfunction below.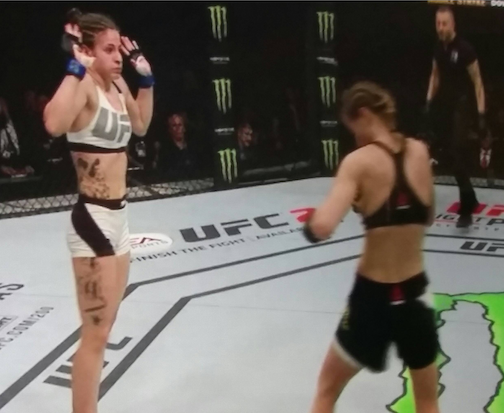 For more MMA News click here.