Detroit, Michigan is hosting the Ultimate Fighting Championship's latest mixed martial arts event tonight, Dec. 2, inside the Little Caesars Arena. This time around, the mixed martial arts promotion is offering fight fans the highly anticipated fight card for UFC 218. With the night of fights now going down, it's time to take a look at the live UFC results. Strawweight contender Angela Magana had a rough night though after an embarrassing UFC wardrobe malfunction and also being dominated by Amanda Cooper.
The night's headliners are UFC featherweight champion Max Holloway and former title holder Jose Aldo. The two mixed martial arts warriors will be throwing down for an exciting title fight rematch inside the Detroit arena.
The night's featured UFC Fight Pass prelim is a battle between Amanda Cooper and Angela Magana.
The fight started at a slower pace, as each competitor took their time getting comfortable with their opponent's reach. Magana began sticking Cooper with some leg kicks. Cooper's leg began to show some redness from the strikes.
Magana faced a takedown from her opponent, but immediately shot back to her feet. Cooper then pressured Magana into the fence from the clinch. Cooper managed to get her opponent to the ground again, with Cooper making her way to Magana's back. Still, Magana's managed to pull her opponent into full guard before suffering too much damage from Cooper's strikes.
The fight was momentarily paused, as Magana suffered a wardrobe malfunction that was quickly corrected.
With the fight back on, Cooper made her way side control and began pummeling Magana with ground and pound. Cooper then made her way back to Magan's back, offering another session of ground and pound to her opponent. This time, the fighter finished the round with some heavy striking.
Cooper quickly got the the canvas with Magana in the second round, taking the fighter's back once again. Cooper attempted a rear-naked choke on her opponent, but Magana managed to slip out of the submission attempt.
From her back, Cooper began raining down strikes once again. Still, Magana worked hard to try and secure wrist control over her opponent. With less than a minute less in the round, the referee called a stop to the contest.
UFC Results: Amanda Cooper def. Angela Magana via TKO in round 2
THERE IT IS!@ABCNation115 dominates from start to finish! #UFC218 pic.twitter.com/KPfm8gBX2P

— UFC (@ufc) December 3, 2017
Additionally, Angela Magana suffered an unfortunate Wardrobe malfunction during round 1 of the bout.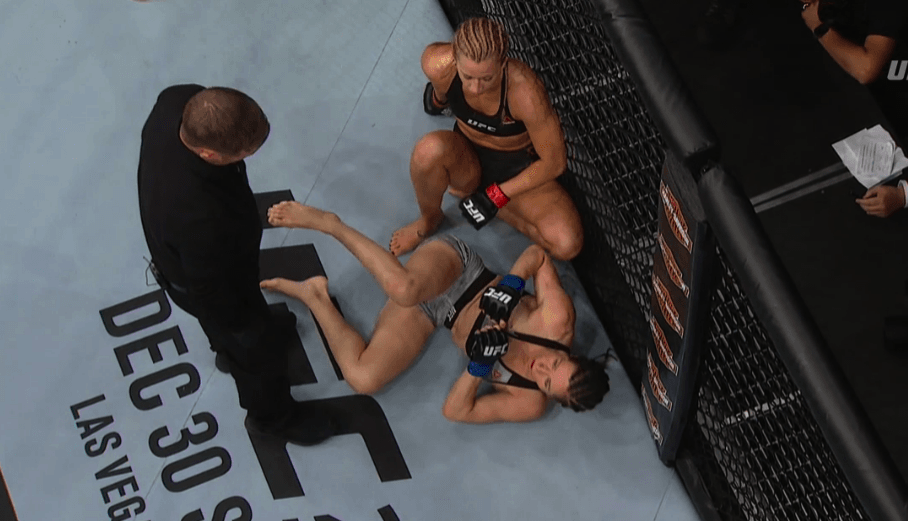 For more MMA news click here.